Luchemos por la Vida Awards 2014
Details

Created on Thursday, 05 March 2015 17:17
We are pleased to announce that, once more, Luchemos por la Vida held the "Luchemos por la Vida Awards" ceremony, which took place on November, 25th in Buenos Aires, Argentina. This time 20 awards were given for different kinds of efforts in favour of traffic safety.

The "Luchemos por la Vida Awards" were presented for the first time in the year 1996 to all those who made outstanding contributions to the promotion of Traffic Safety and helped create public awareness of it. The ceremony is annually held at the end of the year, with many people attending and the event is usually covered by the main mass media of the country. The awards have been given for more than fifteen years, and plans are on the way to continue in the next years. The sculpture that is presented as the award is a Greek representation of a Victory, placed on a wheel, symbolizing the victory of life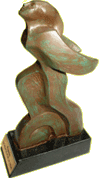 over deaths caused by vehicles.

These sculptures were thought as a public recognition of positive actions of people in different mass media who help promote traffic safety in every form, which includes also professional drivers who have been singled out for their safe driving, teachers who encourage traffic education projects in their spheres of action, journalists, professionals, companies, etc.