Sunday, 20th November World Day of Remembrance for Road Traffic Victims
Details

Created on Thursday, 17 November 2016 20:59
151.244 deaths in 20 years isn't just a number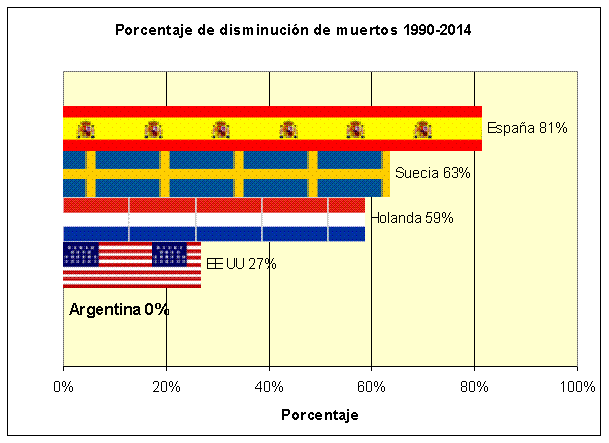 The United Nations has instituted this World Day in memoriam of the millions of traffic victims around the world. In Argentina, unlike other countries, this figure does not decrease. On the last 20 years, more than 150.000 people have died because of this and millions have been injured, many suffering permanent disabilities. And that's not taking into account the millions of relatives and loved ones of the victims, who are so many more. No war, catastrophe or natural disaster has caused such tragedy.
That's why the best tribute to the victims is doing what's necessary to stop these preventable deaths from repeating themselves. In keeping with the request from the United Nations under the "Decade of Action for Road Safety 2011/20" to halve deaths in traffic on this decade, Luchemos por la Vida calls up on each and every one of the citizens, and especially the competent authorities, to take on their responsibility with concrete actions to diminish significantly the number of deaths and injured people.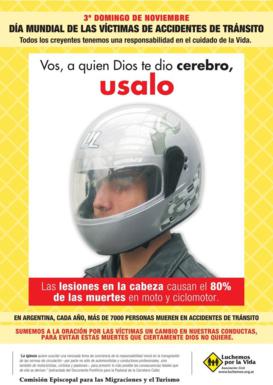 Luchemos por la Vida, on this day, joins this commemoration by:
The distribution of 10.000 posters and thousands of awareness messages on Christian churches and temples of other religions from the entire country, which this year is aimed at encouraging the use of helmet, one of the main causes of death in our country.
A letter was sent to all the Argentinian mass media: radios, TV channels, online portals and other audiovisual media (more than 1500 mass media), with an awareness message that was consequently disseminated by many of them.
A letter was sent to Pope Francis, requesting his promotion of the day through a prayer for the victims and to make Catholics remember their responsibility in safe driving.
The adhesion to commemorative acts that will take place that day.
Support and participation on global actions encouraged by the United Nations and the World Health Organization on this Decade of Action.
We are all responsible in the care for life
Dr. Alberto José Silveira
President
Luchemos por la Vida