Distracted-driving programs show success
Details

Created on Monday, 17 October 2011 14:30
The type of high-profile police crackdown and public-education campaign that led to record seat-belt use in the USA has proved highly effective against distracted driving in two pilot programs, the federal agency that tracks road deaths reports today.
The National Highway Traffic Safety Administration (NHTSA) says handheld cellphone use and texting while driving dropped sharply in Syracuse, N.Y., and Hartford, Conn., during four periods of stepped-up enforcement coupled with media campaigns.
Handheld cellphone use fell 57% and texting while driving 72% in Hartford, and both handheld use and texting while driving fell 32% in Syracuse, NHTSA says.
The declines were based on researchers' observations of cellphone use before and after each enforcement period and on public-awareness surveys at driver-licensing offices in the two cities.
"These findings show that strong laws, combined with highly visible police enforcement, can significantly reduce dangerous texting and cellphone use behind the wheel," Transportation Secretary Ray LaHood says. "It is crystal clear that those who try to minimize this dangerous behavior are making a serious error in judgment, especially when half a million people are injured and thousands more are killed in distracted-driving accidents."
The programs included four waves of police crackdowns and education campaigns in April, July and October 2010 and March-April 2011. They began after NHTSA determined that 5% of drivers were using handheld cellphones at any given moment during a typical day in 2009. NHTSA next plans to test the same model statewide in an as-yet-undetermined state.
The Insurance Institute for Highway Safety published separate studies last year showing that handheld bans produced no reduction in crashes and that texting bans might actually cause a slight increase in collisions.
"When laws are strongly enforced, drivers change their behavior, and Click It or Ticket is a good example," IIHS spokesman Russ Rader says.
Source: USA Today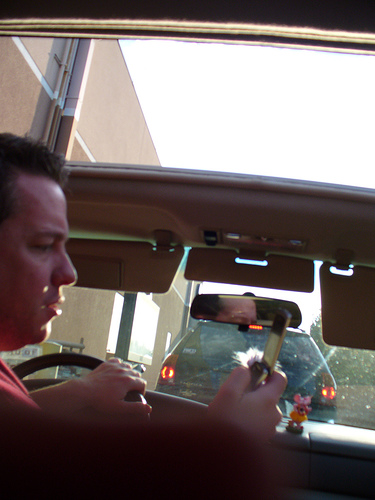 Photo credits: CC License - Flickr user: guruscotty