Campaign Helmet. You, that you have brain, use it!
Details

Created on Wednesday, 14 March 2012 22:28
Luchemos por la Vida launched a new chapter of the awareness campaign on radio and TV to increase the helmet use in motorcycle and moped.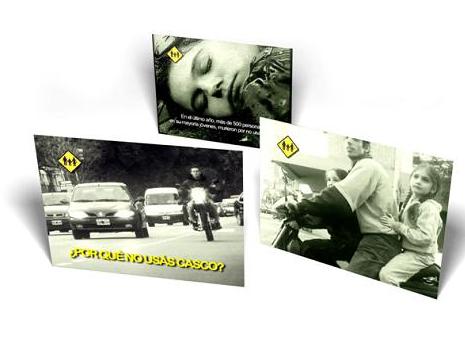 The advertising concept is in line with the last campaigns of this association; it begins with a question: "why don´t you wear a helmet?", and it is followed by testimonies of people who put forward the more frequent excuses for not wearing it.
It continues with a strong image about a motorcyclist who falls down and hits his head against the curb. These images are accompanied by information about the reasons that justify to wear a helmet. As it is brought out in the campaign, the injuries in the head cause the 80% of the deaths on motorcycle and moped and are the main cause of permanent disability. Then, the spot finishes with the phrase: "YOU, THAT YOU HAVE BRAIN, USE IT!".
The subject was chosen as a result of the noticeable increase of the number of deaths on motorcycle and moped during the last years, according to the last measurements carried out by Luchemos por la Vida. Before de campaign, the use of helmet in the City of Buenos Aires reached 74%, while this figure dropped to less than 10% of use in most cities and towns of the interior. This problem was very serious because, besides, the fleet of motorcycles and mopeds had increased significantly during that year. And the most of these vehicles are used by young people who are under 25 years old, the main victims of traffic accidents.
More than 1,500 lives, most of them young, are estimated, are lost every year due to the non use of this simple device. The campaign was spread from May to December, 2011. The radios could download it from www.luchemos.org.ar, or they could request it in CD format to this association, as well as the TV channels.
More information about how the helmet works and its benefits is available in our web site: www.luchemos.org.ar.

Why is it necessary to wear a helmet?
►The motorcyclists that wear the helmet have got 73% less fatality than the ones who don't wear it.
►The motorcyclists who wear the helmet suffer 85% less serious injuries than the ones who don't wear it.