Activities carried out by Luchemos por la Vida
Details

Created on Friday, 19 May 2017 15:25
Fourth United Nations Global Road Safety Week
8- 14 May 2017
Save Lives #Slow Down
Luchemos por la Vida has developed intense activity before and during the 4th Global Road Safety Week, to help raise awareness and work towards slowing down while driving and saving lives. #Reduzcalavelocidad #SlowDown @roadsafetyngos
Luchemos por la Vida carried out preparatory activities during March and April to develop before, during and after the 4th Global Week. We also invited others, NGOs from the interior of the country, educators and authorities to join this campaign.
Summary of main activities
April 2017
Study of documents and elaboration of activity guides to carry out during the Global Week.
Study of prevailing legislation and elaboration of a project of legislation to reduce in the entire country the maximum speeds of circulation, in relation to practicality and location.
Elaboration of banners, leaflets and posters with related information.
Massive dissemination
Announcement of the Global Week to our network of friends of Luchemos por la Vida with information and an invitation to participate.
Contact with authorities responsible of the topic to promote the development of joint activities.
Announcement in all of Luchemos por la Vida's media, by means of press releases (more than 5000 sendings, beginning of the development of topics on social networks.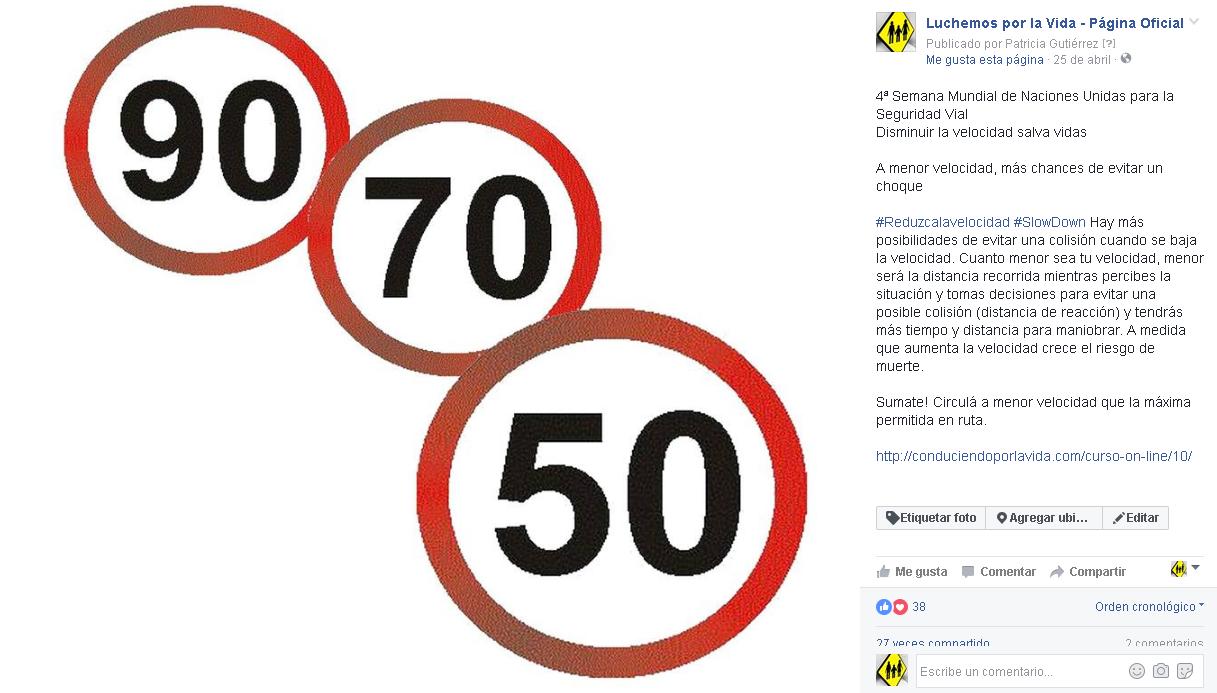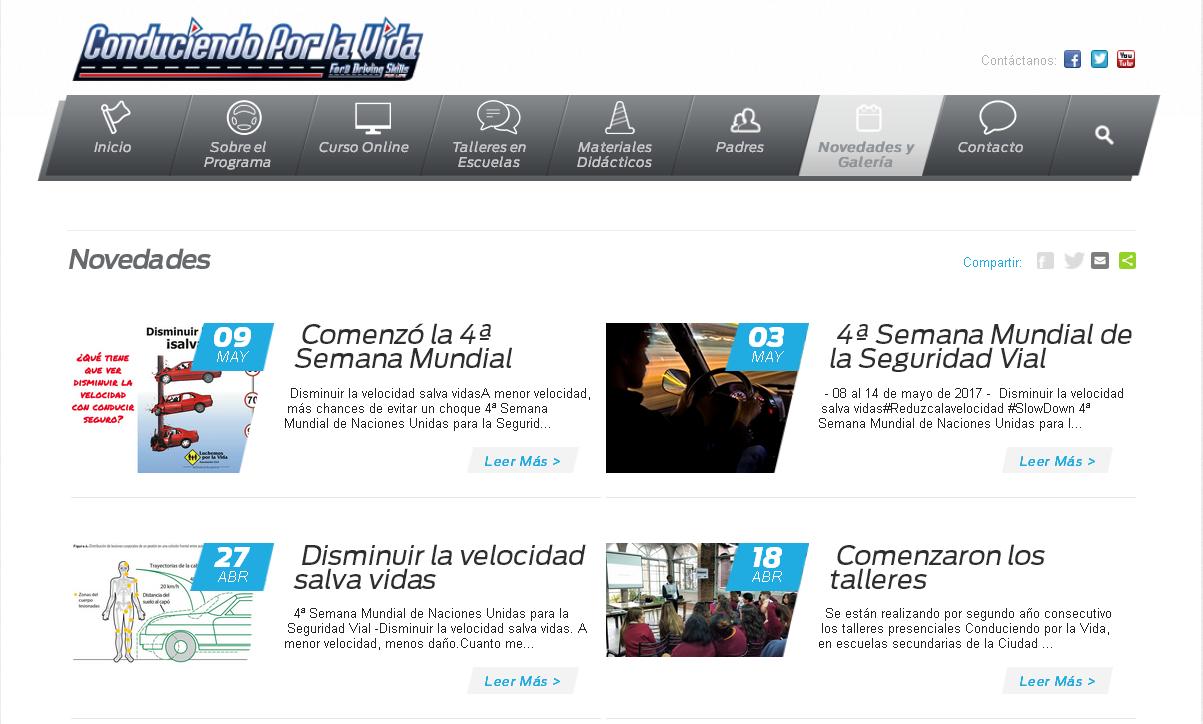 Global Road Safety Week 8 – 14 May
Luchemos por la Vida officially launched the 4th UN Global Road Safety Week with a walk by downtown Buenos Aires City, developed workshops in schools and the dissemination of proposals of legislation to reduce circulation speeds in Argentina and deter reckless driving due to speeding.
Sending of 5530 Press Releases to media, NGO, institutions and individuals with the presentation of the 4th Global Week and its objectives.
Daily dissemination of messages about the subject in different formats (texts, images, photos, videos), with varied information on social networks, TV channels, radios and graphic media.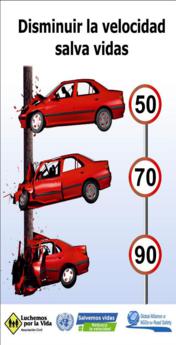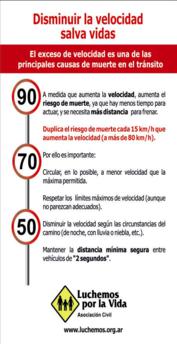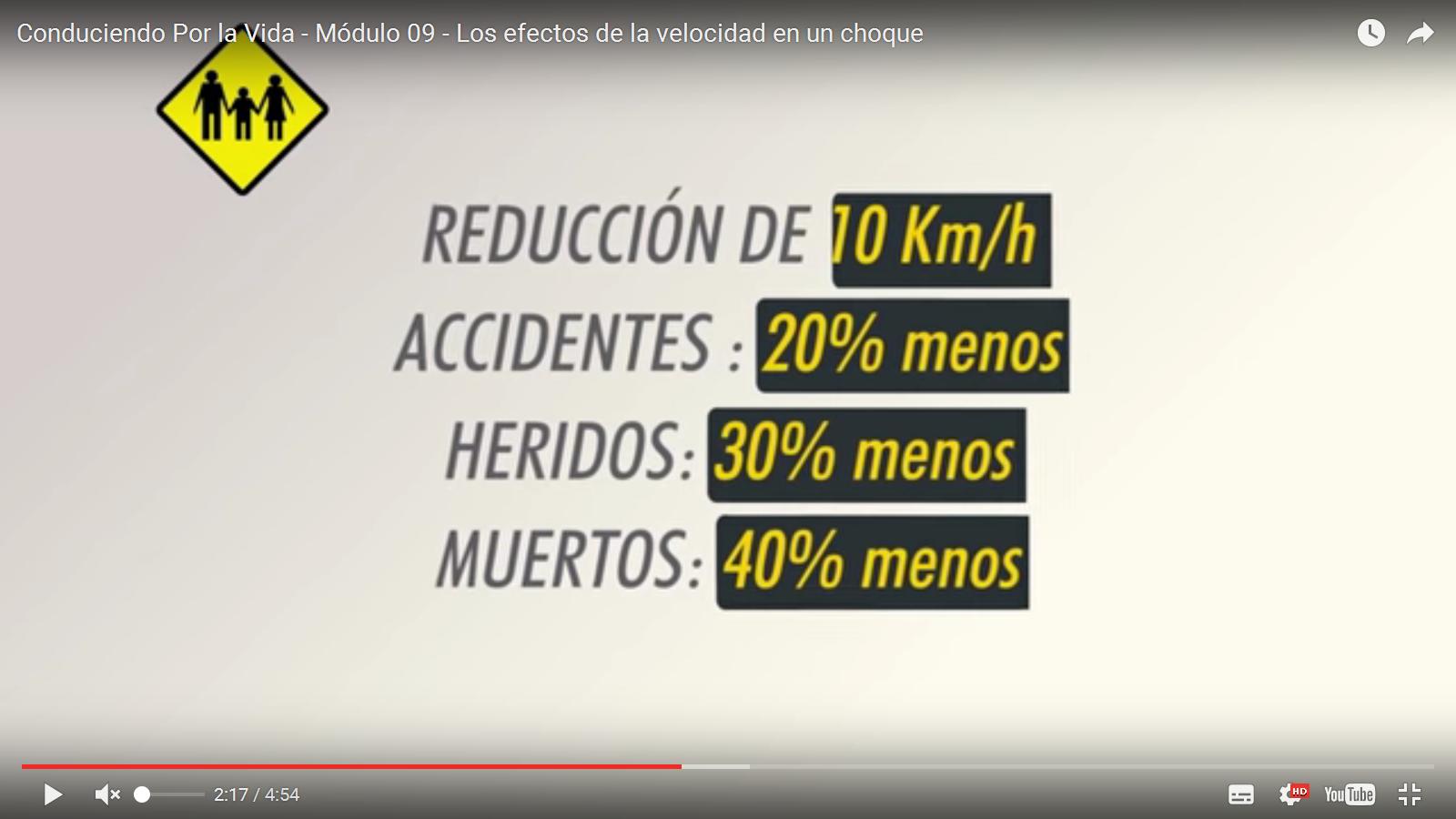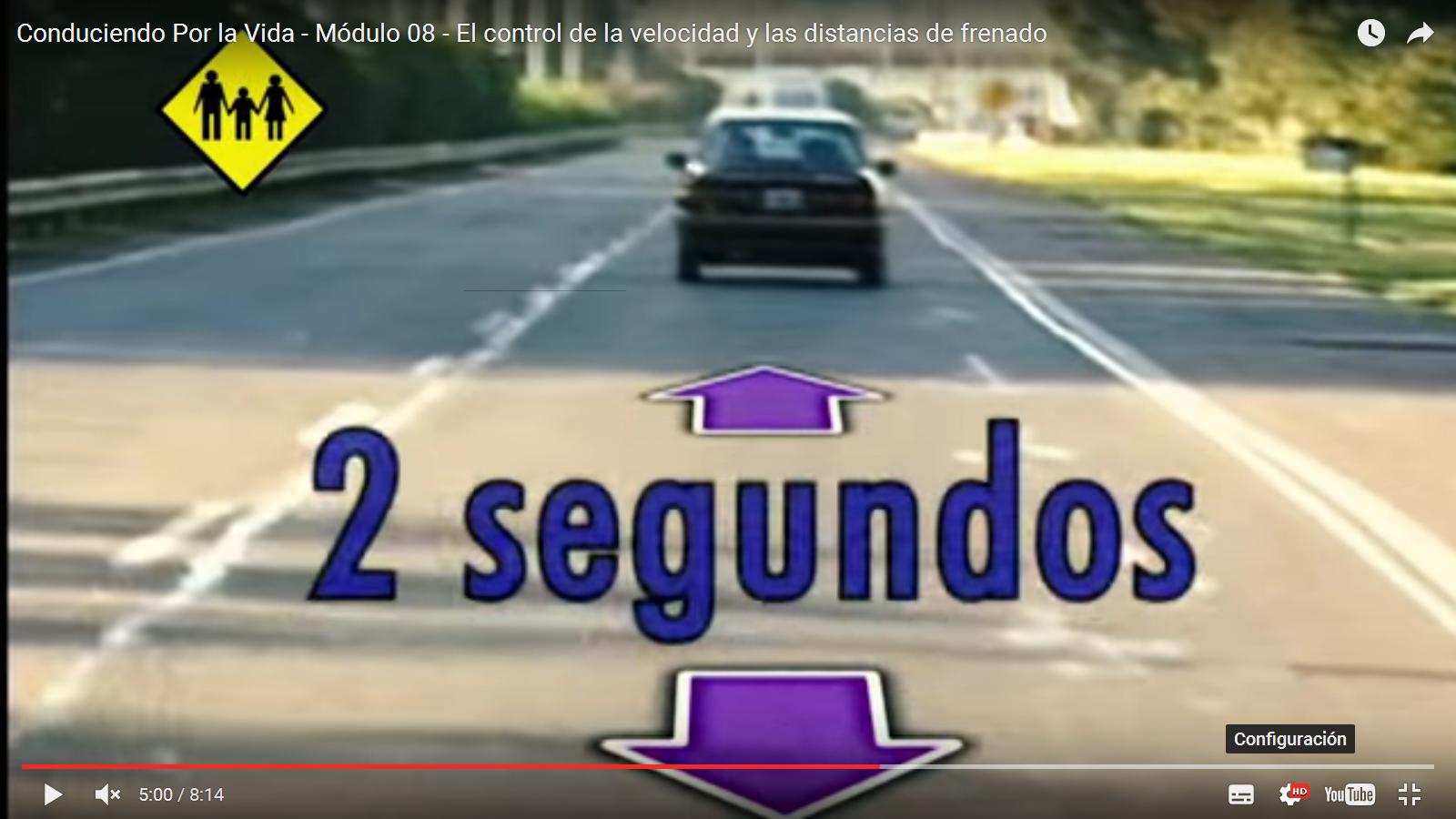 Public launching in the City of Buenos Aires of the 4th Global Week, with a walk, carried out on May 9, by members of this organization, volunteers and supporters, with a banner display before drivers with the slogan "Disminuir la velocidad salva vidas" (Save Lives, Slow Down) and distribution of explanatory brochures. It began at the iconic corner of Corrientes and Cerrito Avenues, right next to the Obelisco, and then continued by Roque Sáenz Peña Ave., ending in De Mayo Avenue, next to the Casa Rosada, seat of the National Government.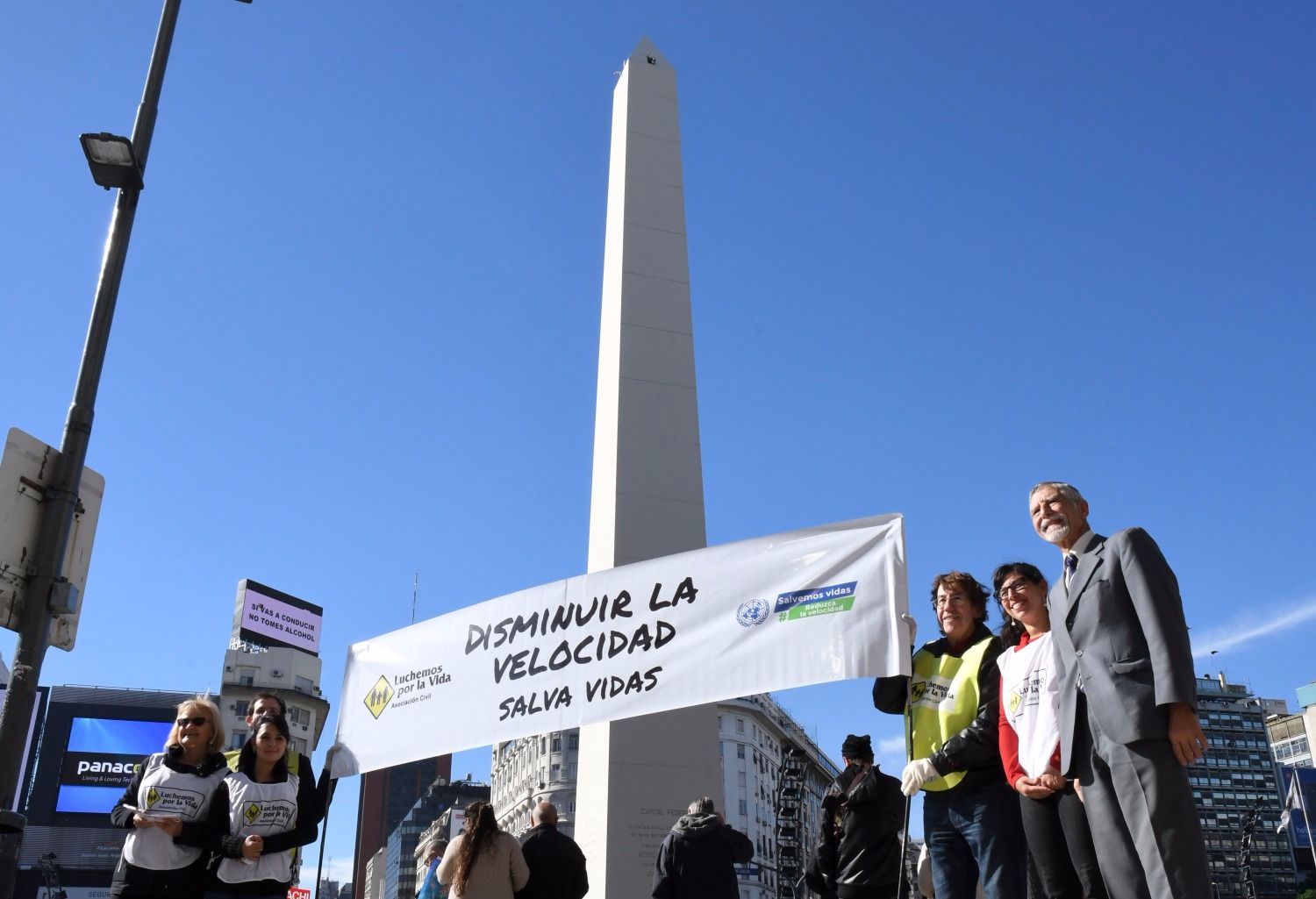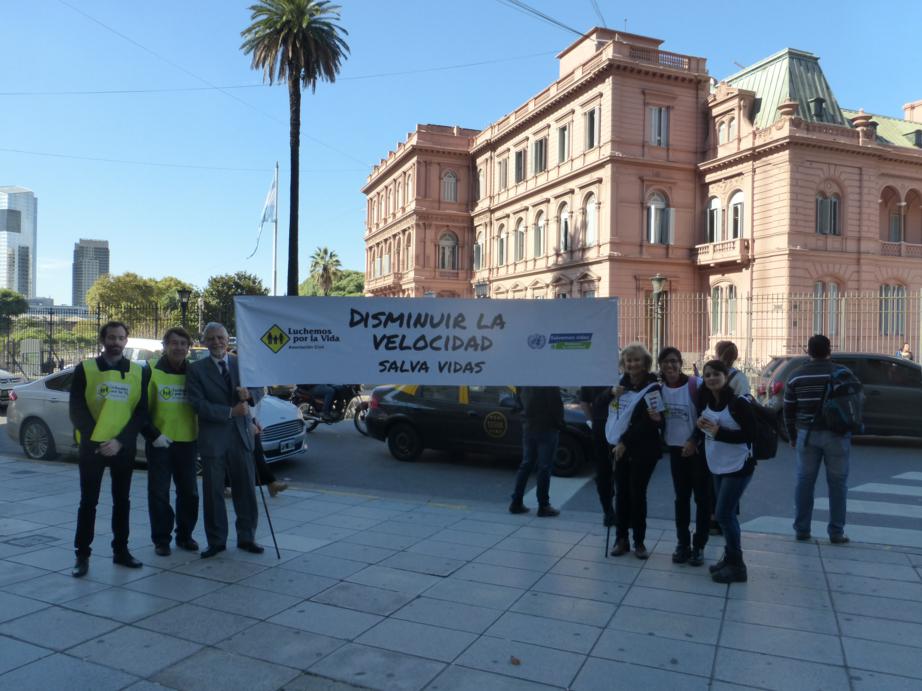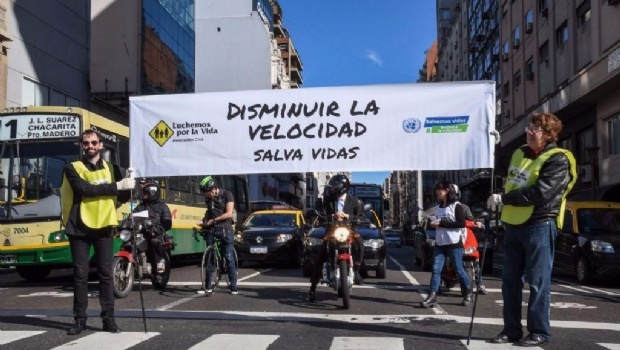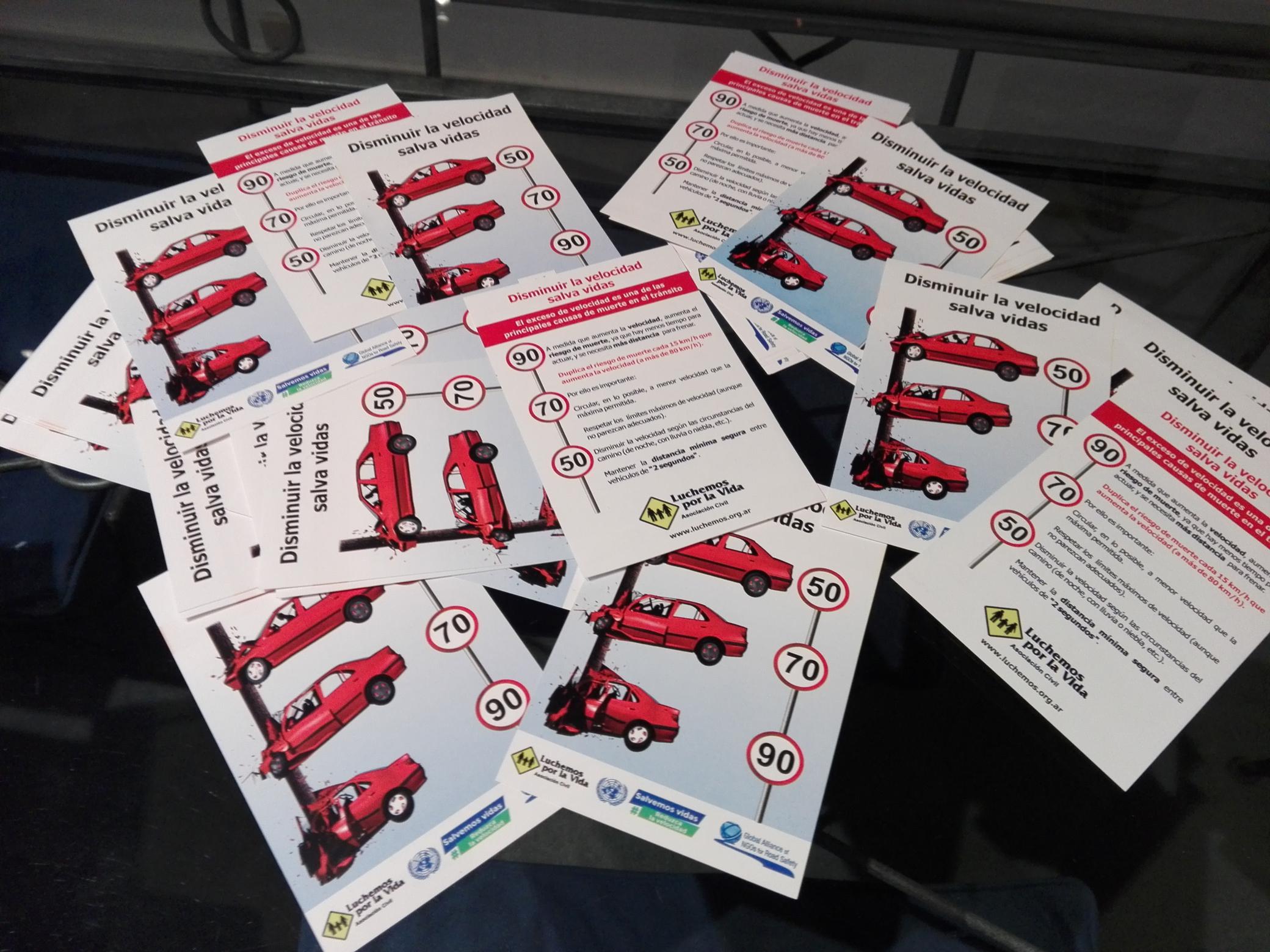 Pedestrians received with interest the brochures about speed, and talked about their concerns on this topic.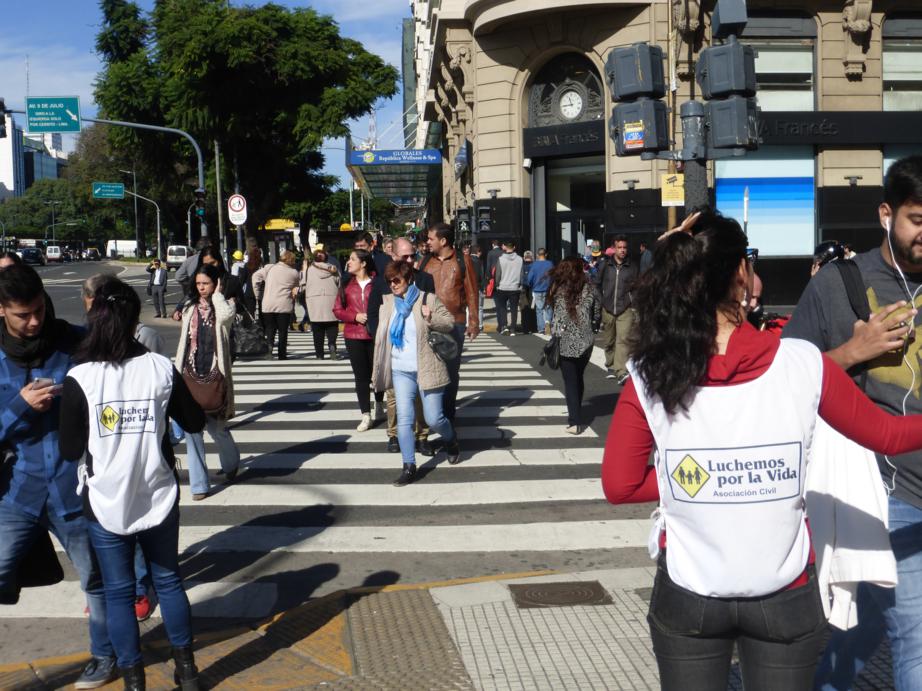 Media participation. Several national and local media echoed the initiative, and showed up at the event. Among others, TV Pública, the official on air TV channel that is spread the most throughout the country, broadcasted live the mobilization and a statement by the President of Luchemos por la Vida about the goals of the Week and the proposals of legislation to reduce speed. Also the official news agency Telam was present covering the activity and legislation proposals and disseminating them across the country.
Interview to Dr. Alberto Silveira in TV Pública Channel 7 Subtitled to English
Director of Research and Road Safety Education, María Cristina Isoba, in América 24
The two most important newspapers from Argentina, La Nación and Clarín, and countless graphic media, radios and TV channels from across the country echoed the initiatives. For example, the national TV channel C5N, one of the most important ones, and the national channel A 24 interviewed the authorities of this organization and the network CN 24 broadcasted part of the event to all America.
Agency news Télam http://www.telam.com.ar/notas/201705/188374-seguridad-vial-luchemos-por-la-vida.html
Newspaper Clarín
https://www.clarin.com/ciudades/piden-exceso-velocidad-grave-considerado-delito_0_ByDnYP01W.html
Newspaper La Nación
http://www.lanacion.com.ar/2022310-liberaron-a-radetic-pero-retendran-su-licencia-para-conducir
Magazine Noticias
http://noticias.perfil.com/2017/05/11/la-negligencia-al-volante-se-cobra-20-vidas-por-dia/
Newspaper La Gaceta Tucumán
http://www.lagaceta.com.ar/nota/728945/opinion/tragedias-viales-exceso-velocidad.html
Magazine Todo Riesgo
http://www.todoriesgo.com.ar/semana-mundial-naciones-unidas-la-seguridad-vial/
Newspaper BAE Negocios Buenos Aires
http://www.diariobae.com/article/details/164122/luchemos-por-la-vida-presentara-un-proyecto-de-ley-para-reducir-10-kmh-la-veloci
Newspaper UNO Santa Fe
http://www.unosantafe.com.ar/el-pais/conducir-240-kmh-tiene-que-ser-delito-dijo-el-presidente-luchemos-la-vida-n1392752.html
Newspaper Hoy La Plata
http://diariohoy.net/interes-general/buscan-reducir-10-kmh-las-velocidades-maximas-95170
Newspaper El Periódico San Francisco Córdoba
http://el-periodico.com.ar/noticia/28179/seguridad-vial-presentan-proyecto-de-ley-para-reducir-la-velocidad-maxima
Newspaper La Nueva Mañana Córdoba
http://lmdiario.com.ar/noticia/13822/seguridad-vial-presentan-proyecto-de-ley-para-reducir-la-velocidad-maxima
Portal Yahoo Noticias
https://es-us.noticias.yahoo.com/luchemos-vida-concientiza-importancia-reducir-150500663.html
Portal Jujuy al momento http://www.jujuyalmomento.com/post/67883/para-luchemos-por-la-vida-manejar-a-240-km-h-deberia-ser-delito.html
Portal Perspectiva Sur Quilmes Buenos Aires http://www.perspectivasur.com/3/nota.php?nota_id=62634
Portal El Entre Ríos http://www.elentrerios.com/policiales/comparan-la-muerte-del-hincha-con-la-de-micaela-garcaa.htm
Portal ANDigital Buenos Aires http://andigital.com.ar/interes-general/item/60774-impulsan-iniciativa-con-foco-en-la-concientizacion-vial
Portal Radio Provincia Buenos Aires http://www.gba.gob.ar/radioprovincia/noticias/comenz%C3%B3_la_semana_mundial_para_la_seguridad_vial_de_la_onu
Portal Radio Reflejos Sierra de la Venta Buenos Aires
http://noticiasradioreflejos.com.ar/noticias/index.php/2017/05/04/4a-semana-mundial-de-naciones-unidas-para-la-seguridad-vial/
Portal Palermo Online http://palermonline.com.ar/wordpress/?p=61927
Portal Las24hs.com
http://las24hs.com/argentina/economia/category/luchemos-por-la-vida/
Portal GiraBsAs
http://www.girabsas.com/nota/2017-5-9-luchemos-por-la-vida-presentara-un-proyecto-de-ley-para-reducir-en-10-km-h-la-velocidad-maxima-en-calles-avenidas-autopistas-y-rutas
Portal AutoBlog
http://autoblog.com.ar/2017/05/10/proyecto-de-ley-para-reducir-las-velocidades-maximas-en-argentina/comment-page-2/
Portal Radio del Mercado Central de Buenos Aires
https://www.ivoox.com/alberto-gasparini-titular-luchemos-vida-audios-mp3_rf_18607872_1.html
Portal Radio Cultura Buenos Aires
http://radiocut.fm/audiocut/alberto-silveira-de-luchemos-por-la-vida-con-novillopablo/
Portal Noticias de Bariloche
https://noticiasdebariloche.com.ar/luchemos-por-la-vida-presentara-un-proyecto-de-ley-para-reducir-10-kmh-la-velocidad-maxima/
Portal El Sol Mendoza
http://www.elsol.com.ar/nota/302950
Newspaper La Capital Rosario http://www.lacapital.com.ar/informacion-general/buscan-al-otro-conductor-acusado-participar-picadas-la-avenida-9-julio-n1392503.html
Portal Big Bang News Buenos Aires
http://www.bigbangnews.com/actualidad/El-efecto-Radetic-despues-de-la-picada-viral-endurecen-los-controles-de-seguridad-20170509-0021.html
Portal El Once Entre Ríos
http://www.elonce.com/secciones/sociedad/505564-buscan-reducir-en-10-kmh-la-velocidad-mnaxima-en-calles-rutas-y-autopistas.htm
Portal AutoWeb
http://autoweb.com.ar/autoweb_noticia_detalle.aspx?seccion=home&id=5088&t=Quieren_bajar_10_km%2Fh_la_velocidad_m%C3%A1xima_en_Argentina
Participative classroom workshops in high schools from the City of Buenos Aires and the interior of the country were carried out, in order to raise awareness among young people on the topics of Speed and driving and its effects. The students participated actively and with enthusiasm from the workshops and several of the school groups are planning activities for their educational community.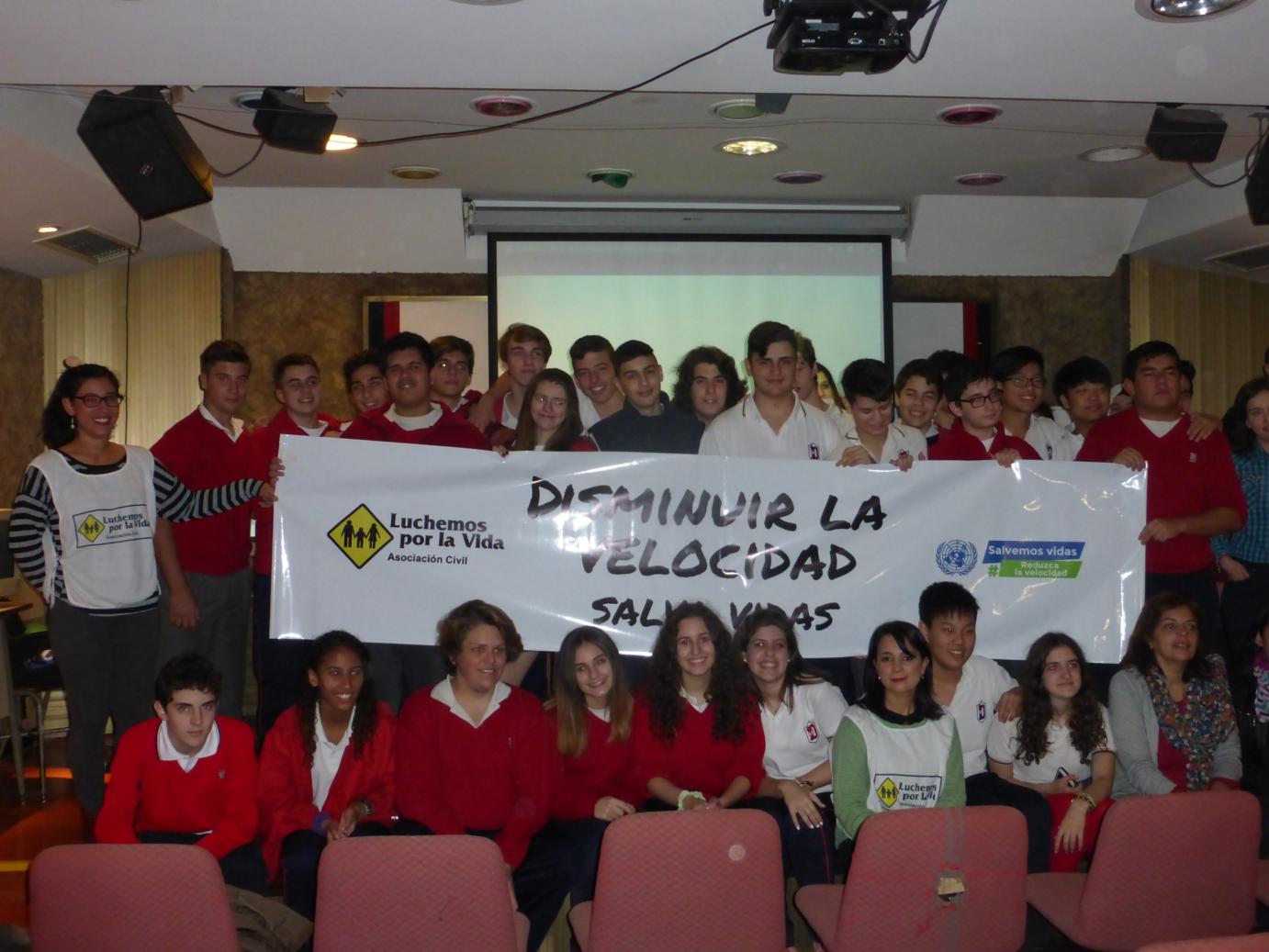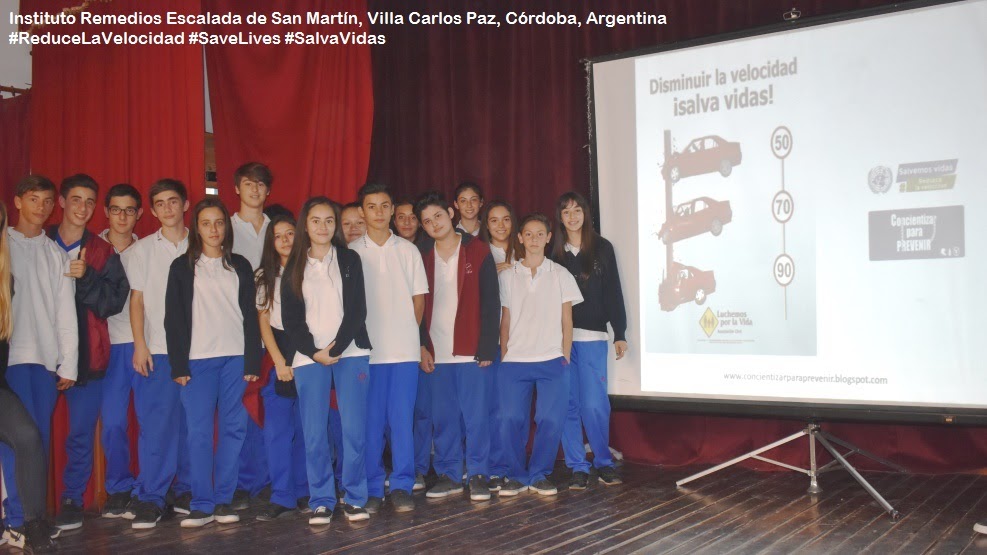 Presentation of proposals of legislation to the ANSV (National Road Safety Agency), national lawmakers, authorities and lawmakers from the Province of Buenos Aires (the most populated and with the greatest number of vehicles in the country); also authorities from the provinces of Córdoba and Mendoza and to the highest authorities from the City of Buenos Aires and its lawmakers. The objective of this proposal is to reduce maximum driving speeds in 10km, in highways, ringways, routes, avenues and streets to adapt them to those recommended by the United Nations. Apart from other proposals for the improvement of controller mechanisms and the introduction of changes in public spaces for the development of safe areas for the most vulnerable in traffic.
These proposals were presented personally to lawmakers from the City of Buenos Aires Cristina García and Daniel Del Sol, from the Commision of Traffic and Transport of the City and before the ANSV (National Road Safety Agency)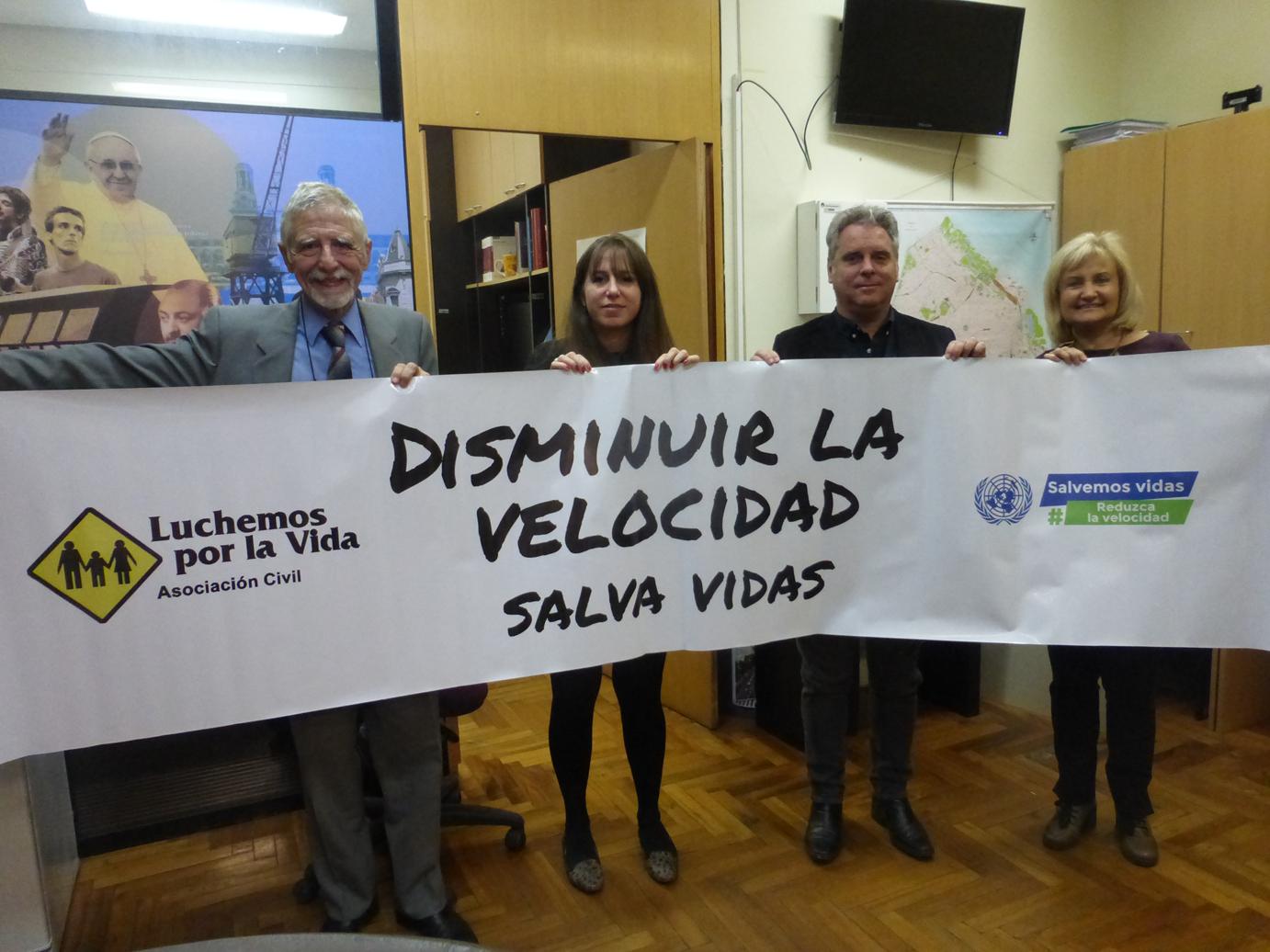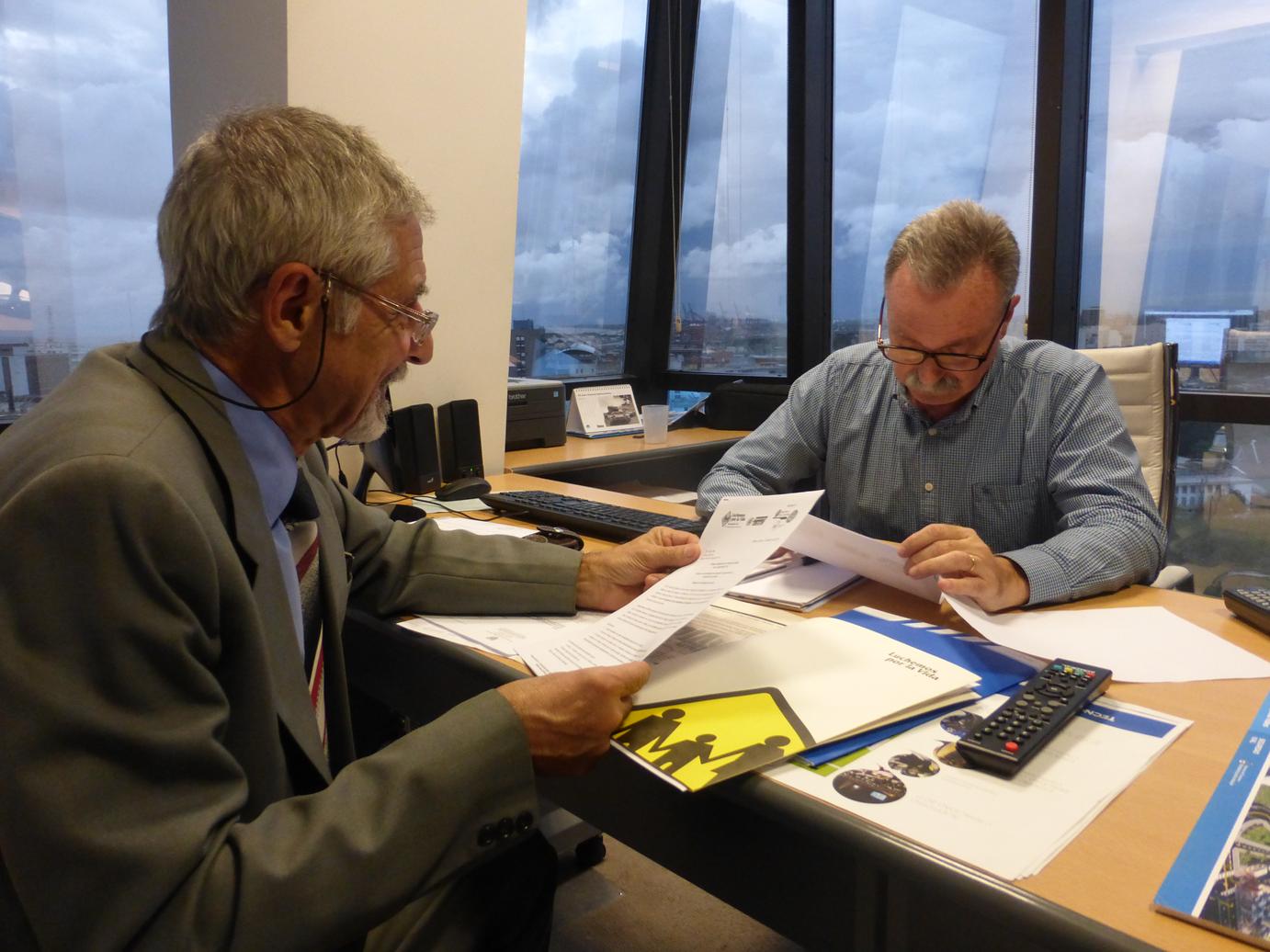 Conclussion
We believe the activities developed have been very successful, especially because of the excellent media outreach obtained and the positive reception of the proposals from the population and the authorities. The activities will continue for the rest of the year through: raising awareness on social networks and media, workshops in schools, studies about speed, legislative follow-up and other actions.
We aspire to get the authorities to compromise and to make the entire community reflect and improve their driving, slowing down on streets and routes to care for their own lives and everybody else's, especially the lives of the most vulnerable, like pedestrians and ciclists.