Who, how and where
Figures about traffic accidents in Argentina - 2012
PERCENTAGES OF FATALITIES (dead people) IN TRAFFIC ACCIDENTS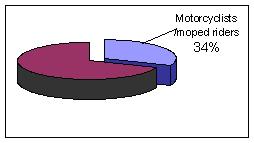 ACCORDING TO TRAFFIC ACCIDENT VICTIMS' ROLES
Pedestrians 21 %
Drivers or people in a car 36 %
Cyclists 8 %
Motorcyclists/moped riders 34 %
Others 1 %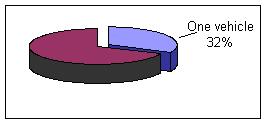 ACCORDING TO NUMBER OF INVOLVED VEHICLES
One vehicle 32%
Many vehicles 68%


ACCORDING TO VICTIMS' AGE
from 0 to 12 years old 6 %

from 13 to 19 years old 12 % 12 % 54% are under
from 20 to 24 years old 15 % 15 % 35 years old
from 25 to 34 years old 21 % 21 %

from 35 to 60 years old 29 % 29 %
more than 60 years old 17 %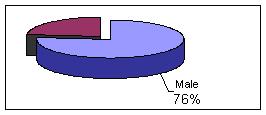 ACCORDING TO VICTIMS' SEX
Male Female
76 % 24 %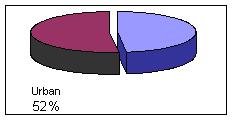 ACCORDING TO AREA WHERE IT HAPPENS (URBAN OR RURAL)
Rural Urban
48 % 52 %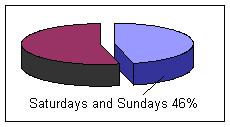 ACCORDING TO PUBLIC HOLIDAYS OR WORK DAYS
Saturdays and Sundays 46 %
Work days 54 %
from 0 to 6 20 % Day time: 47%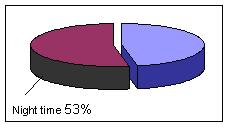 from 6 to 12 28 %
from 12 to 18 22 % Night time: 53%
from 18 to 24 30 %
These figures are projections of partial official and/or private figures (last ones available up to the present), which may be modified to the extent that essential advances related to figures' accuracy and generalization are obtained in Argentina.
Comments:
Deaths among motorcyclists increase:
It is outstanding the increase of dead motorcyclists who reach almost the third part of all the fatal victims.
High percentage of traffic accidents involving one vehicle:
It is significant the percentage of dead people in accidents involving one vehicle, almost a third part of the total.
The youngest ones are the majority:
Most victims are under 35 years old (54%).
Weekends are more dangerous:
Although they are only two days, almost half of the dead people in traffic accidents (46%) die on weekends.